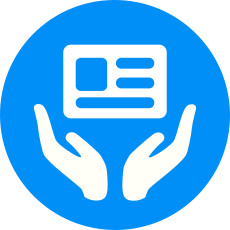 Certificate App
The Certificate App guides each user through a food safety training program.  The app includes course instruction, learning accelerators, quizzing, skill assessment, examination, and issues the course certificate & badge.
Gamepack App
The Gamepack App makes a continuous training program on Food Safety fun and engaging. Course content is converted to games designed for classrooms, workplace meetings, or just played for fun personal growth.
Team Tools
The Team Tools organize the food safety training program into workplace teams. Compliance-grade reports show certificates and continuous training results. Management is easy and grows from one to many sites.
Accredited certification Program
Get your ANAB Food Handler Certificate
Repetitive practice is a proven way of building recall. Many trainers use flashcards or quizzes to build recall. How could you change these things up? Well, you may occasionally force fast quizzes. Under a minute - focusing just on speed. Our Cogneti's Safe Food Handler certificate program helps you train this way. It's a simple mobile app. Designed with basic game mechanics. It has a series of unique quizzes for every food safety topic. And it's ANSI-ANAB accredited, which is super-duper cool.
Download on the
App Store
Download on the
Google Play
browser
Safe Food Handler
Certificate Program
Food safety depends on food service employees who know how to prevent foodborne illness. Our Safe Food Handler program provides essential information about hygiene, food preparation, service, receiving and storage that will keep your customers safe and protect your business. With the 24/7 access of on-demand mobile training, you are always in control of how, where and when you train. Cogneti's learning accelerators make it easy. Take your exam anywhere, and as often as you need.
Download on the
Google Play
Download on the
App Store
Browser
Cogneti Safe Food Handler Program
Start Now!
It's as easy as 1-2-3 Click - Open - start! A quick start to using the Food Handler App on your iPhone, Android, or web browser. All apps present the same Safe Food Handler certificate program (ANAB Accreditation ID 1243). Your account name and license will work with each of these apps at anytime. Use our learning accelerators to quickly get ready for the exam and earn the safe food handler certificate! You're the key for your food safety!
Download on the
App Store
Download on the
Google Play
browser
Where people are training right now
Simple install and access
The Safe Food Handler Certificate is accessible as simple Web, iOS, and Android apps. Sign up is as easy as confirming your email, and entering your name and password.
Certificate tools
When a Safe Food Handler certificate is earned the user has several tools then available. A credit-card size badge. A 5 x 7 inch certificate of completion. A web URL (QR code) for instant validation by any business.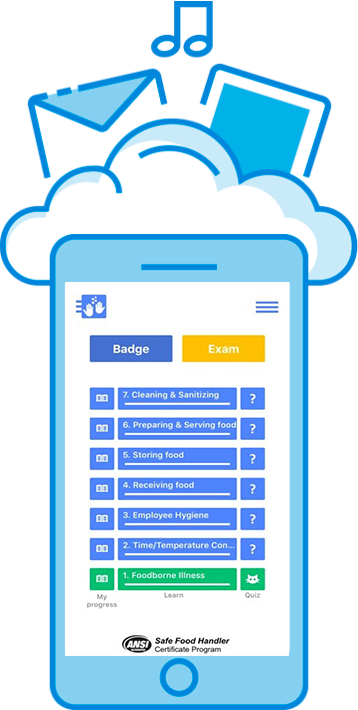 Self-guided engagement
An on-screen Quick Start tutorial and Getting Started video introduce the program's home page that clearly shows course levels and skills, quiz states and results, and exam/badge buttons.
Timely instruction updates
Author's changes to course instructional material are promptly pushed to all user's program instances, within minutes of publication by Cogneti.
Safe Food Handler is an awesome app
It is competitively unique and a great fit for those who are comfortable with self-guided training.
FAQ
Eight important questions on Safe Food Handler Program
OUR PRICING PLANS
Earn your ANAB Food Handler certificate and badge
Certificate Program License
$
15
per Month
per Year
One-time fee
Get complete access to the Safe Food Handler certificate program.
Seven course levels. All learning accelerators. Hundreds of practice quizzes. Unlimited exam attempts. And ANSI-ANAB-accredited eBadge and certificate!
You must register before purchase
Register
Get your
Food Handler Certificate

Now!

Food Handlers start here! The Safe Food Handler Certificate program meets all US State & local requirement for an ANSI-ANAB accredited food handler certificate.